Vehicle detectors the installation instruction
First:Detection loop installation instructions
1, generally used in high-temperature copper ring detection, cross-sectional area of 0.5-1.5mm2.
2, the shape of the detection ring is generally rectangular optimum width of 1 m, the length is set according to the width of the road surface. Ring the ends off the road boundary detection distance 0.35 m above reservations. (As shown below)
3, such as road tracks and other metal objects, must be more than 1 meter away from the detection loop installation.
4, the installation must be concrete or asphalt pavement surface, cut wide and 5-8mm, 30-50mm deep concave groove, chamfered corners can prevent damage to the coil after coil embedded in cement or asphalt poured strong to prevent loosening.
5, the probe must be twisted ring lead (less than 20 times per meter) directly connected to the vehicle detector.
6, the spacing between the two detection rings must not be greater than 1.5 m or more.
7, the detection loop length and number of turns determine its inductance to the ideal value is 80UH 300UH.
8, the length and the number of ring ring probe
| | | | |
| --- | --- | --- | --- |
| size | turms | size | turns |
| | 6 | | 5 |
| | 6 | | 5 |
| | 6 | | 4 |
| | 5 | | 4 |
Second, set the sense coil turns
For the detector to work in the best condition, the inductance of the coil should be kept between 100uH-300uH. In the coil inductance remains unchanged, the number of turns of the coil and the perimeter has an important relationship. The smaller circumference, the more turns, and can refer to the following table:
| | |
| --- | --- |
| | |
| | According to the actual situation, to ensure that the inductance values between 100uH-200uH to |
| | |
| | |
| | |
| | |
Because under the road may have a variety of cable laying pipelines, steel, and other metals sewer cover, which will have a significant impact on the actual value of the inductance of the coil, so the table data is only for reference. In the actual construction of the user should use the inductance inductance inductance tester actual test to determine the actual number of turns of the coil construction, as long as the ultimate guarantee of the coil inductance value in the work within a reasonable range (eg within 100uH-300uH it).
Third, the sense coil buried method
1, the first use of the line machine coil buried in the road cut grooves. For 45 ° chamfer at the four corners, sharp corners to prevent damage line cable. Grooving width is generally 4-8 mm. Trunking cutting profile as shown below: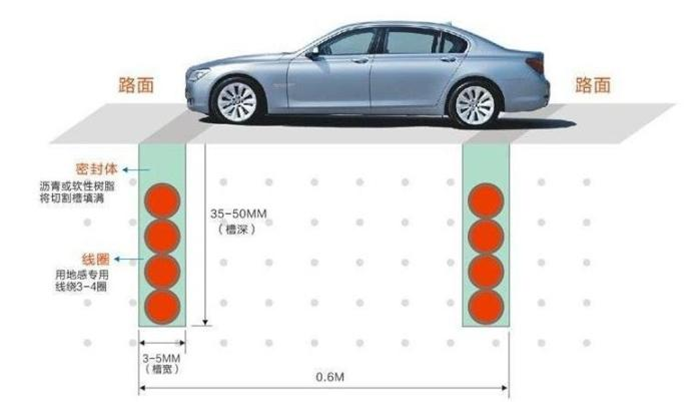 2, the coil wire cut a slot through to the curb, but beware: the slots must be clean water or other liquid infiltration. Coil wound coils must be straightened, but not too tight and close to the bottom. After the coil winding, the twisted pair output leads trough good leads.