Digital traffic signs ready to come alive in Las Vegas
Digital traffic signs ready to come alive in Las Vegas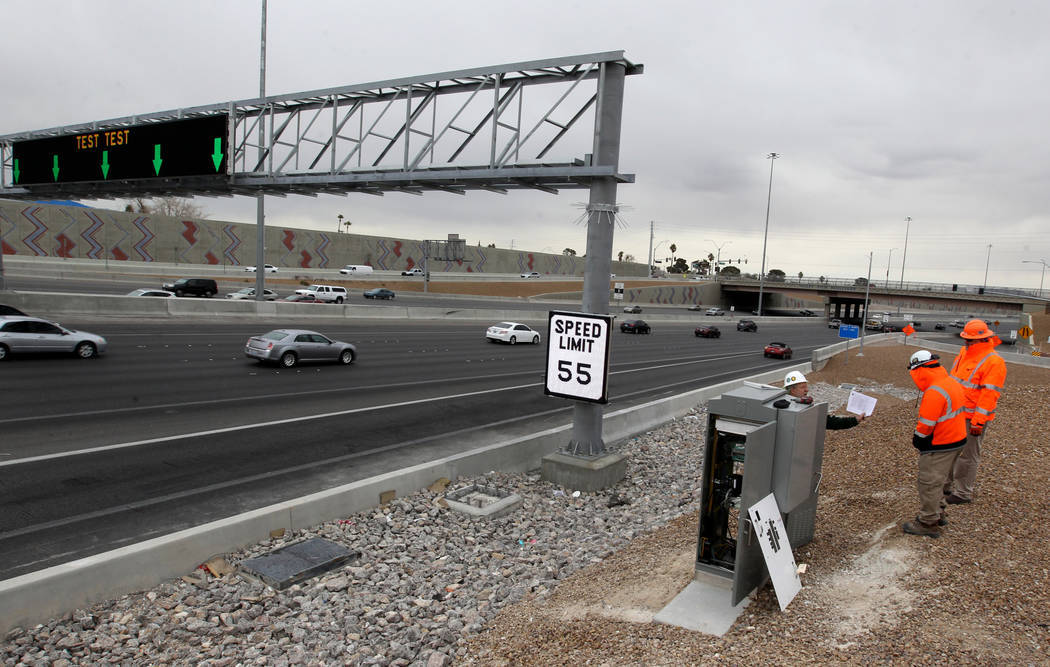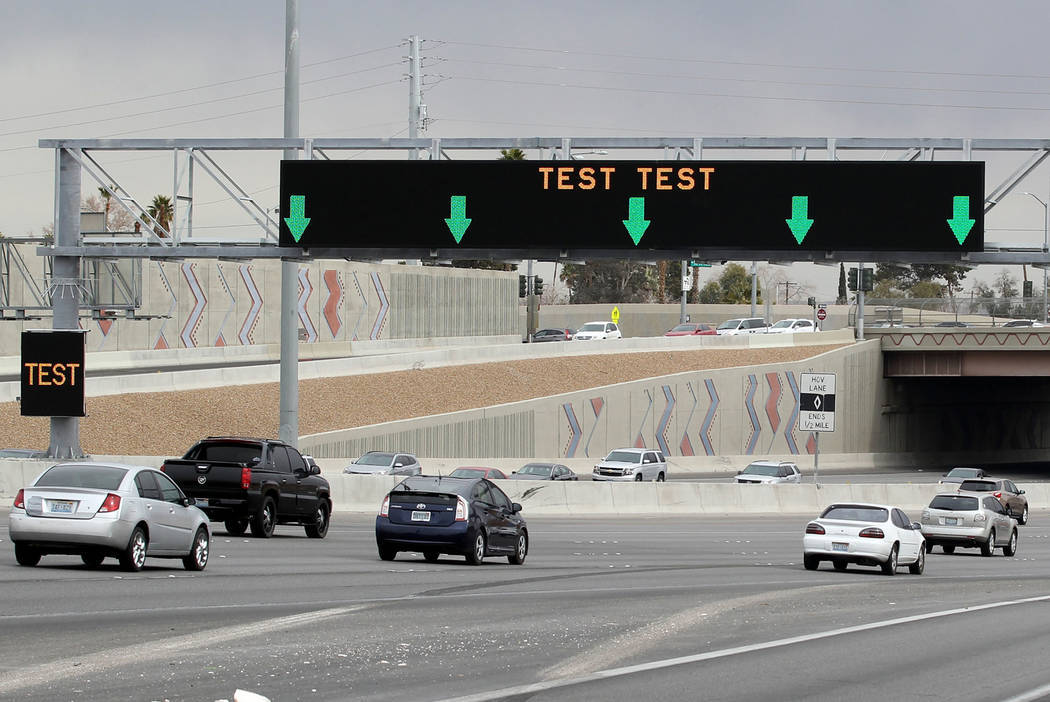 Giant digital screens will flash warnings of potential traffic snarls starting Tuesday, advising motorists to slow down along U.S. Highway 95 while approaching the Spaghetti Bowl in downtown Las Vegas.
Known as Active Traffic Management signs, the full-color electronic displays are the latest tool deployed by the Nevada Department of Transportation to reduce crashes and congestion for the 300,000 vehicles traveling daily through the state's busiest freeway interchange.
Vibrant green arrows made their first appearance on the black screens last week as final wiring adjustments were made by crews from Kiewit Infrastructure West Co., the contractor hired by NDOT to install the signs.
At 12½ feet tall and 77 feet wide, the largest steel gantry-supported signs soaring over U.S. 95 look more like stadium-sized video billboards than a traffic-calming measure.
"It's unlike anything we've seen in Southern Nevada," Kiewit spokesman Jay Proskovec said.
"The high visibility, the use of multiple colors and adjusting the arrows right over your traffic lane will advertise what to expect just ahead," Proskovec said. "It will really help drivers decide where they need to be."
The first six signs are going live as NDOT gears up for the "Main Event," marking the third round of major traffic lane and freeway ramp closures associated with Project Neon, the $1 billion plan to widen Interstate 15 between Sahara Avenue and the Spaghetti Bowl.
In total, 42 electronic signs will be erected along I-15 and U.S. 95 by the time construction wraps up in July 2019, Illia said. Spaced about a half-mile apart from each other, the displays will relay real-time information about ongoing detours, accidents, lane closures and other traffic hazards.
Reducing 'secondary crashes'
Messages will also display travel times to freeway exits and the status of each freeway lane, controlled by the Regional Transportation Commission of Southern Nevada's traffic management center.
Existing traffic-monitoring cameras and an upgraded software system will help determine what types of messages should be displayed, said Brian Hoeft, director of the RTC's Freeway and Arterial System of Transportation traffic center, known as FAST.
Along with alerting drivers of existing conditions, Hoeft said the sophisticated system is also aimed at reducing the frequency of so-called "secondary crashes" that are known to happen during traffic jams caused by another accident farther down the road.
"We can't necessarily say we'll get rid of them completely," Hoeft said. "But we can address the frequency and severity."
A handful of cities across the country have installed similar technology, resulting in fewer deaths, injuries and commuter delays.
Seattle was among the first to deploy the large digital signs in 2010 along sections of Interstate 5, State Route 520 and Interstate 90.
The move led to a 7 percent reduction in collisions on weekdays and up to 20 percent fewer crashes on weekends, said Morgan Balogh, a traffic engineer for the Washington State Department of Transportation.
Additionally, Balogh said the signs helped eliminate a previous problem with vehicles crashing into highway maintenance crews working at night.
"We're happy with the accomplishments we made," Balogh said. "These systems can help save money when you're trying to build efficiencies into the highway system, along with improving safety and capacity."
Oakland's experience
Not far from the Raiders' current NFL stadium in Oakland, 159 new Active Traffic Management signs were activated in 2016 along Interstate 80 between the Carquinez Bridge and the Bay Bridge in Alameda County, California.
Since then, the signs have helped manage traffic in more than 400 "blocking incidents" while delivering traveler information, said Marcus Wagner, a spokesman for the California Department of Transportation, known as Caltrans.
"In general, drivers appear to find the information displayed on the signs useful," Wagner said. "We have not received much — if any — negative feedback with the newly installed traffic management signs."
Studies are underway to determine the system's effect on the Bay Area, but Wagner said early data shows a reduction in congestion and improved travel times along I-80.
NDOT officials said they hope to see similar success in Las Vegas, where the Spaghetti Bowl interchange averages three accidents daily.
"The greatest benefit is crash reductions, especially on weekends," NDOT spokesman Tony Illia said. "This is attributable to 'non-commuter' drivers who may not be familiar with the area, which is especially relevant in Las Vegas where large numbers of tourists drive the I-15 corridor daily."
A little advice
With a few years of experience behind them, transportation officials in Washington and California offered some advice to their counterparts in Nevada as they move toward Active Traffic Management signs.
"As Nevada moves into it, you have a lot of opportunity to do things with it. You can provide the public with a lot of information, and the public is hungry for any information that will make driving easier. It's a big opportunity to make things safer for them," said Morgan Balogh, a traffic engineer for the Washington State Department of Transportation.
"NDOT should engage in a consistent media campaign to educate the public and generate trust with the technology. The general public should follow the advisories and information displayed on the signs. There is a reason why NDOT is advising folks to slow down or merge over," said Marcus Wagner, a spokesman for the California Department of Transportation.