Brisbane's worst spots for speeding revealed in council data
Brisbane's worst spots for speeding revealed in council data
Motorists are driving at excessive speeds in Brisbane, with the latest Brisbane City Council speed sign data revealing some vehicles exceeded the speed limit by up to 44 per cent.
The council has invested $6.7 million into the Slow for SAM speed awareness campaign over five years and there are now 100 individual signs which can be rotated to almost 1000 different sites across Brisbane.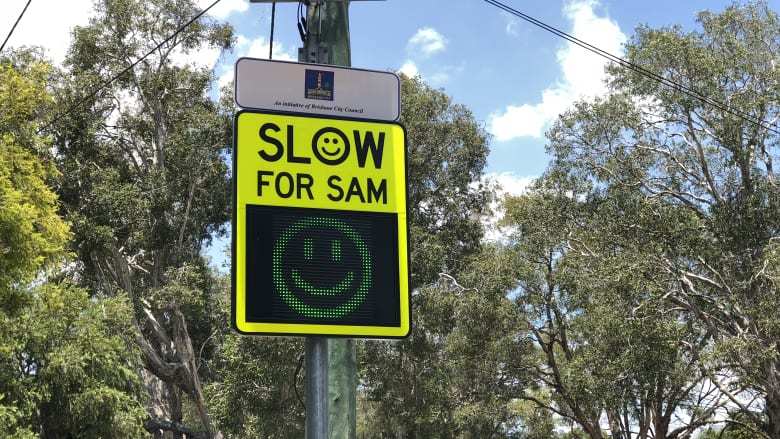 The signs are designed to register a driver's speed and issue them with a visual warning to slow down if they are exceeding the limit and if they are below the limit a smiley face appears on the sign.
Lord mayor Graham Quirk said SAM stood for speed awareness monitor as well as being a gender-neutral name.
"Sam is gender neutral, it can be a little boy or a little girl and so the important thing is it's about making people realise we need to slow down in these locations as it's about the safety of our children and all residents in our city," he said.
Top sites for speeding vehicles in February 2018
School Road, The Gap – 44 per cent of vehicles speeding
Windermare Avenue, Sinnamon Park – 44 per cent of vehicles speeding
Chandos Street, Wynnum West – 34 per cent of vehicles speeding
Gowan Road, Calamvale – 34 per cent of vehicles speeding
Algester Road, Algester – 30 pet cent of vehicles speeding
Henderson Street, Bulimba – 25 per cent of vehicles speeding
Nearra Street, Deagon – 24 per cent of vehicles speeding
Raymont Road, The Grange – 23 per cent of vehicles speeding
Bognor Street, Tingalpa – 21 per cent of vehicles speeding
Nottingham Road, Parkinson – 20 per cent of vehicles speeding
Cr Quirk said the council was achieving success in terms of motorists slowing down at the signs, but there was still about one in six vehicles speeding when they passed the signs.
"We don't want anyone speeding through these environments and these signs are a friendly reminder," he said.
The signs record two speed readings, and the data revealed 45 per cent of motorists, including those travelling under the limit, reduced their speed in response to the flashing sign.
Infrastructure chairman Amanda Cooper said the council had received positive community feedback about the signs.
"Locations for these solar-powered signs, which are regularly rotated to new locations for maximum impact, are chosen based on known speeding locations, rat running routes and busy neighbourhoods," she said.
"The results have been very very good, better than we anticipated that they would be.
"Slow down for Sam and make Sam smile and that's getting people to reduce their speeds and drive safely on our local streets."